Blogs and Events
Subscribe to posts
各位家长,朋友,大家好。
第二届安华彩虹美食日定于2016年11月12日 (星期六)在WCC举行,安华中文学校彩虹计划将再次联手全美中餐馆联盟密西根分会为大家奉上丰盛的晩宴,届时您将能品尝到来自御宝
筵
,
鸿桦
, 荔棧, 来来,碧都,京
华
小
馆
, 家
乡
,一品
轩
, 老地方 和天厨
等餐馆酒楼的数十种特色佳肴, 还有来自"安华美食团"的居家小吃,甜咸点心。安华中文学校彩虹计划拟通过这种特特殊的方式为中国边远地区的贫困学生集资助学,避免他们因家庭经济不良而辍学失学,以之鼓励他们继续求学,勤奋学习,健康成长,成为有知识,有文化,有利益社会的人。本届美食日的所有收益将送给青海,四川,江西,河北及云南等地的贫困学生。
赠人玫瑰,手有余香,我们期待着您的光临和支持。
Update:
票已售完,感谢大家支持!
---
Announcing the Second Annual Taste of Ann-Hua Day
A unique opportunity to taste delicious Chinese food is upon us, again: The second annual Taste of Ann-Hua day will be at Washtenaw Community College (WCC) on Saturday, November 12, 2016.
Like our first wildly successful event last November, the team at Ann-Hua Rainbow Project, together with Ann-Hua Chinese School, with support from the local Michigan Chapter of the American Chinese Culinary Federation (ACCF), will present a splendid dinner on the evening of the event, with dishes prepared by local ACCF member restaurants, as well as our wonderfully home-styled culinary experts from the Ann-Hua Gourmet Brigade — all volunteers form the local Chinese community. Expect to see well-prepared restaurant food, and some perhaps less common but nonetheless tasty side dishes and desserts.
Taste of Ann-Hua is a charity event, with the purpose of promoting and fund-raising for the Ann-Hua Rainbow Project which provides direct financial support, in the form of grants and awards, to impoverished students in China's rural and far-flung corners. All the events' revenue will be sent to approximately 140+ students in China. The generosity of every two participants at $30 each will help us support one student for a year, besides a uniquely enjoyable evening.
Last year's event was attended by hundreds, braving through heavy snow storm and winter traffic. This year's event is expected to be just as successful, if not more. So get in early!
Event summary:
Time: 6:30PM ~ 8:30PM on Saturday, November 12, 2016
Location: Room 101, Morris Lawrence Building, WCC
Address: 4800 E. Huron River Drive, Ann Arbor, MI 48105-4800
To purchase your tickets, please call: [Update: Sold out! Thank you for your support!]
Ms. Gina Yang 734-262-9101

Ms. Qi Wu 734-255-0567
Dear all at Ann-Hua, greetings!
A new school year has just started and 2011 Mid-Autumn festivity is fast approaching. On behalf of the Ann-Hua Rainbow Project I would like to express the entire team's welcome to every one.
With your generous support, the AHRP has had another successful year of supporting our children's counterparts in China. We have sent funds that many of Ann-Hua families have donated, $5410 in total to 148 students in a number of schools in 5 provinces and Chongqing Municipality. You can find all the details in AHRP's
Students We Support
page.
Thanks to the generosity of Ann-Hua families, hard work of the
team AHRP
and its
Student Action Team
and support from all AHCS volunteers, Rainbow Project successfully raised close to $3500 in the 2010-2011 school year, through donations, some corporate matching funds and various activities. That means that AHRP has nearly $2000 an annual deficit which has persisted through the last few years. Although AHRP currently has a positive balance on its account, this is definitely not a sustainable situation for the project.
Therefore, as we do every new school year, we would like to call on all Ann-Hua families to renew your support or join the effort. To those who have been supporting our students, we say thank you! Please help us spread the word. For those who are new to Ann-Hua, we say welcome! We need you and your students and we believe AHRP will benefit your students as well.
The AHRP team will be setting up a table on the next four Sundays (9/11, 9/18, 9/25, 10/2) at the Chinese School's Concordia campus as well as the 
Mid-Autumn Gala at Saline High School
(evening of Saturday 9/17). We would love to see familiar faces and new faces on these occasions.
For those who wish to donate but only go to the UM campus at the Engineering School, please give your donation to an AHCS team member on-duty -- We thank the AHCS team for their gracious promise to help with our fund-raising effort.
Together we will make a difference!
Sincerely,
Wei Wang, on behalf of the Ann-Hua Rainbow Project
Dear Ann-Hua families, students, teachers and friends,
As the season turns crisp and cool, Ann-Hua Rainbow Project volunteer team members would like to extend our warm greetings and thanks. Thank you to all of you who have supported and donated to the Rainbow Project to directly help one of the 148 disadvantaged students that Rainbow currently supports in the vast rural and remote places of China, from Jiangxi to Yunnan, to Sichuan and to Qinghai.
As we are relieved to send off our children to school in this season, or excited to go back to the classroom, let us remember that at this same moment, these 148 school children are relying on us to continue the privilege and pride of basic education. There is no better time than NOW to again open our heart, pull out our checkbook, so we could meet the hope and anxiety of these bright and beautiful children.
Rainbow Project volunteers will be at Ann Hua School from 9am to 6pm on the following four Sundays of September 12, 19, 26, and October 3, to chat with you and accept your donation. We'd like to urge you to take 5 minutes of your busy time to come in to school and see us. In case you are unable, we urge you to contact one of the following Rainbow volunteers in town at any time:
| | | | |
| --- | --- | --- | --- |
| Ms. Xiaohong Chen | 陈小虹 | | (734) 623-9604 |
| Ms. Tsu Cheng |  钟素粧 | | (734) 973-9539,(734) 239-5730 |
|  Ms. Mengdan Chu |  储梦丹 | | (734) 222-8510 |
| Ms. Hong Jiang | 江虹 | | (734) 495-9122 |
| Mr. Jiang Jiang | 江江 | | 734-418-0558 |
| Ms. Ying Pei |  裴颖 | | (734) 717 - 9958 |
| Mr. Wei Wang | 王伟 | | (734) 418-8385 |
| Ms. Qi Wu | 吴琪 | | (734) 327-9528,(734) 255-0567 |
| Mr. Jianming Xiang | 向建明 | | (734) 332-0701 |
Please also visit our website at http://rainbow.annhua.org for more information. Rainbow Project maintains direct relationship with the schools and students we support, as well as zero overhead as our team members are all strict volunteers. Your donation to Rainbow is of course tax-deductable.
We'd also like to take this opportunity to share with you our Student Action Team. Rainbow Project Student Action Team is consisted of a group of highly motivated young people who are passionate about supporting the education of disadvantaged children in China and have been rigorously involved in numerous Rainbow Project fundraising activities. We'd like to commend our Student Action Team members for their dedicated efforts and contributions, and to encourage more young people to join the cause. For more information, please visit our webpage at http://rainbow.annhua.org/team-ahrp/student-team
Thank you very much and we look forward to seeing and hearing from you soon!
Sincerely,
Ann-Hua Rainbow Project Volunteer Team
Ann-Hua Rainbow Project 2010 Moxi Exchange Team visited the Moxi Middle School in the town of Moxi, Sichuan Province in the summer of 2010.

Ann-Hua Rainbow Project 2010 Moxi Exchange Team



at
Moxi Middle School, Ganzhi Tibetan Autonomous County,
Sichuan Province, China
(中国四川省甘孜藏族自治州泸定县磨西中学)
July 3rd – July 10th, 2010

Captain: Acer Xu
Culture Manager: Daniel Jiang
Education Manager: Angel Li
Finance Manager: Linda Liu
Security Manager: Wenxin Yang
Banner design: Linda Liu and Angel Li

Contact: Acer Xu, acerspades9@gmail.com



---

Photos taken by Acer Xu at Moxi Middle School during a previous trip in 2009:
中国西南诸省目前旱灾严重,我们能为他们做点什么?
中国南方,本来应该水土丰沛,本来不应该有这样满地的龟裂。但是现在说什么都不济事,只有那句话,我们能为他们做些什么?
Dear Ann Hua Students, Families and Friends,
Happy New Year!
We are proud that the Ann Hua community is a deeply loving and caring family. Each year, we extend our care and love across the ocean to the vast land of our ancestors and cultural roots. Our students and families never forget to donate our savings, our lucky money from the red envelopes, or our hard-earned wages from working part-time outside of school, to Ann Hua Rainbow Project, to be delivered directly to more than 100 disadvantaged students in rural China, from Qing Hai, Jiang Xi, He Bei, to Si Chuan, to help with those children's education. In the spirit of the New Year and on behalf of all the students we sponsored in China, Rainbow Project volunteers would like to express heart-felt thanks and warm wishes to all Ann Hua students, families and friends. Thank you so much for your continued support and generosity.            
In addition, as a continuation of Ann Hua's May 2008 disaster relief support to 100 Sichuan Earthquake affected children in Xiaojin County, A Ba Yi and Tibetan Ethnic Autonomous Region of Sichuan, starting 2010, we will continuously support 10 out of those 100 Xiaojin children each year going forward, to help them complete their elementary and secondary education. 
We will also continue to utilize our summer vacations to China to visit our sponsored students.
Please email Rainbow Project at rainbow@annhua.org if you would like to make a donation, and if you have any questions and comments. Your kind attention and tireless support is greatly appreciated. May the New Year bring you and your family peace and joy.
We would also like to acknowledge the following families and friends who donated in 2009(in no particular order):
苏向盈、江虹, 苏欣阳, 苏欣亮,苏欣侃

倪军、王英,倪安卓
刘毅,叶灿之
曹立群,章美玲,曹南西
陈一舫、贺雪立,陈江乐
张星钰、张辉镭,张婉昕
李松年,李安吉,李安妮
周时光、李英敏,Alan Zhou
李培忠, 李则翔, 李美麒, 李美麟
姜涛、蔡丽萍, 姜爱文, 姜凯文
白文玉, Gina Liu
马佳. Hao Yang, 杨怡钦, 杨新桉
吴逸平 (Jim), J. Zhang, Emily Wu
于九红, 刘昕宇、于昕洋
吕岩 (Anna), Owen Wu, 陈潭巍, 陈碧溪
覃振蔚,Hannah Qin
赵瑛, 杨翰汶博
刘亦虹, 江畅 (Athena)
Roy Caddell (罗伊), Hannah & Kiersten
古皓瑜, 张逸冰
贺百华, 易湘宜
胡晓英, 傅予蕾
郑碧霞, 吴宇晴
周楠
王健华
眭京红 (Sui) & Lizhong Zhou, 周嵩 (Oliver)
杨海军, 杨铮
谢菊
Liu Lufeng
Ichihan Tai  戴一帆
郑良根(ChinaVisaServices)
刘友军书展
Busch's
Kroger
裴颖,陈 可
吴琪,陈鸣,陈天皓
黄峥,杨增全、杨闻忻
王伟、李林, 王若玫,王玥如,王心笛
陈哓虹,黄钢成,黄隆
钟素妆,姚金峰,姚于升, 姚于川
许朝晖,储梦丹,许储君,储许言
(We apologize in case we missed your name.)
Sincerely,
Ann Hua Rainbow Project Team
读了
阮一峰
的这篇《
关注现实,关注底层
》,摘抄一些与国内教育有关的图片和文字于此。图片与文字均源于网易。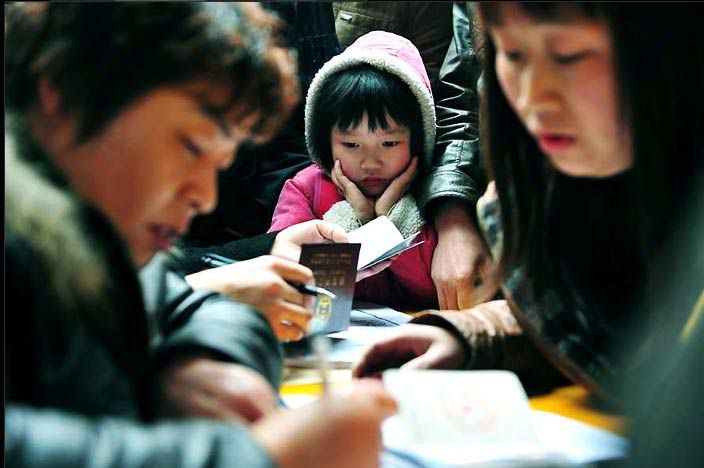 三、
2月8日,西安,来自陕西周至县的召俊看着父母出示《流动人口婚育证明》,为她办理入学手续。她将要就读重点小学西安碑林区友谊小学。对于流动人口的子女来说,借读费、各种需要办理并出示的证件和融入当地社会的门槛,仍然是他们在城市就学的障碍。(华商报 邓小卫/摄)
七、
3月3日,武汉,蔡店中心小学学前班班主任郭炳香在河中为孩子们铺过河石。当地姚蔡河上一座小桥08年被洪水冲垮,至今无人过问未能修复,300多孩子只好趟河去上学。(武汉晨报 石一/摄)
十五、
5月15日,北京,风华爱心希望小学,学前班的孩子正用自制洒水壶给教室洒水加湿。这所简陋的民工小学创立于12年前,与城市中公立小学的条件无法相比。许多农民工子女即使进入公立小学,也因为对环境不适应,而重新回到民工子弟学校。(法制晚报 付丁/摄)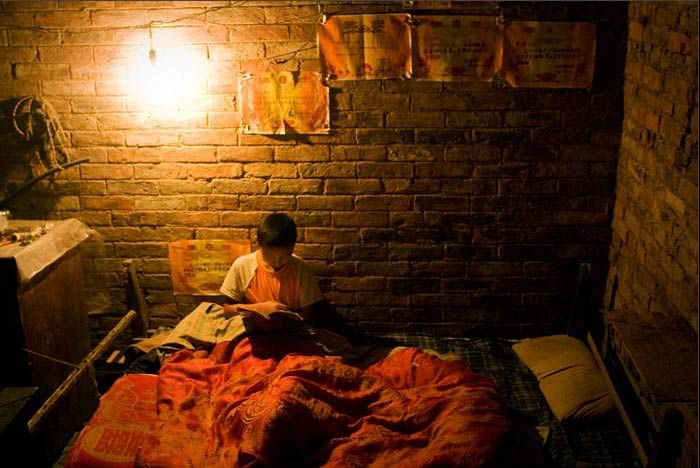 三十四、
11月15日,贵州望谟,12岁的成真波只在睡前才舍得开灯复习当天功课,他家电费每月只有一毛钱。这个贵州贫困山区的孩子2岁时父亲去世,9岁时母亲改嫁。平日里他独自带着两个弟弟生活。(贾代腾飞/摄)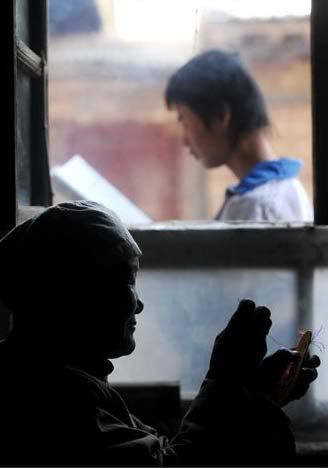 四十、
12月16日,甘肃会宁,会宁二中初三学生张旭良在租住房的窗外读书,前来县城陪读的奶奶张瑞华在窗下做针线活儿。甘肃会宁是一个国家级贫困县,不 少农村家庭把供孩子上大学看做是摆脱贫困的主要出路。如今县城里几个规模不小的"陪读村"中,陪读家长已达数千。(聂建江/摄)
The author seems a little confused but overall a nice and short article about Mengdan's son and husband visiting students in Ganzi, Sichuan:
千里之外送温情, 甘孜州妇联, 2009-07-08 11:08:15